Medieval Hulcott
The name Hulcott means hovel cottages. There is evidence of early settlement by the Celts but Hulcott did not appear as a separate village until after Norman times. The Domesday Book does not record a separate entry for Hulcott and it is generally assumed to be part of Bierton at this time. The first recorded mention of Hulcott was in the Missenden Abbey records of 1250. By 1600, a substantial village had developed comprising a church, a manorial complex with moat, fishponds, watermill, millstream, windmill and numerous farm buildings. Hulcott Church still exists more or less as it did then and the remains of the medieval manor house may survive around the stairwell of Manor Farmhouse.
The plan alongside shows a detail from a much larger diagram prepared by Honor Lewington showing how Hulcott might have appeared in the early 17th. century. Click on the picture to see the larger diagram. Although some of it is conjecture the plan is based on old maps and archaeological evidence.
Village Green
Unlike Broughton, Hulcott was allowed to keep its village green at the enclosures of 1780. The circle of lime trees was planted in the mid 19th. century.
The Turnpike. The 1810 Turnpike road between Aylesbury and Leighton Buzzard skirted the edge of Hulcott and a toll gate was situated at the Hulcott Turn near Rowsham. The ford at Thistle Brook was made redundant by an improved bridge on Rowsham Road.
The Hulcott Trunk is the name given to the strip of land that protrudes south-east towards the Hertfordshire boundary (see present-day map). Being so remote, illegal prizefights were held here during the early 19th century.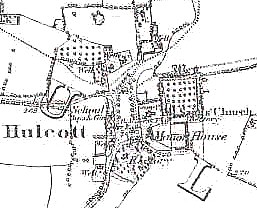 In 1855,  the Brontë children's uncle, the Reverend William Morgan, built a National School in Hulcott Lane on glebe land (land donated to the church in lieu of tithes). In 1859, Hulcott was bought by the Rothschilds and was reconstructed in their style. The existing school was considered to be too far out of the village so a new one was built alongside the village green in 1862/64. The school was closed in 1923. The map alongside is taken from the 6 inch Ordnance Survey map of 1880.  Click on the map to see a larger view
The above is a very brief description of Hulcott's history. Much more information can be found in the below books;
A Young Person's Guide to the History of Bierton,  Broughton and Hulcott by Honor Lewington,  2000
Hulcott – A History by Fred Hinxman, 1992
A Tale of Two Schools by Honor Lewington,  1998
Copies of these books and other documents can be found in the Centre for Buckinghamshire Studies the Aylesbury Reference Library.